Fast Foods which ones are ok when you have Constipation?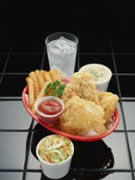 Today you can find fast food items in every household, even Health food shops develop practical fast foods for the busy household. Unfortunately more than not the fibre is lacking in these products.
If you suffer from constipation it is best if you can reduce these items to a minimum and add fresh veggies, pulses and fruit where possible to your diet. All fast foods should be kept to a minimum and always check for fat content before you buy!
| Good Foods | Basic Foods | Occasional Foods | Luxury Foods |
| --- | --- | --- | --- |
| Asia Noodle Snacks | Brochetta | Beef Tacos | Camembert fried |
| Bami Goreng | Noodle/Veggie bakes | Garlic / Herb baguettes | Dishes with cream |
| Veggie dishes frozen | Chili con Carne | Cheeseburger | Cheese Fondue |
| Veggie burgers | Chop Suey | Fish burgers | |
| Veggie/Rice dishes | Potato fried dishes | Spring rolls | |
| Rice dishes | Lasagna | Dishes needing deep frying | |
| Nasi Goreng | Pizza | Fast food chain dishes | |
| Fajita | Noodle dishes | Calzone | |
| | "Light" dishes | Breads to bake fresh | |
| | Burrito | | |
| | Enchilada | | |
| Good Foods | Basic Foods | Occasional Foods | Luxury Foods |
| --- | --- | --- | --- |
| Veggie soups | Soups with meat | Cream Soups | |
| Soups with rice | Veggie broth | Meat broth | |
| Soups with pulses | Chicken broth | Bouillon | |
| Soups with grains | | Cup a Soup | |
| Good Foods | Basic Foods | Occasional Foods | Luxury Foods |
| --- | --- | --- | --- |
| Pre made salads, without cream or mayonnaise | Nut butters | Cream Cheese spreads | Pate meat |
| Tofu pate | Hummus | Tuna Salad | Pate vegetarian |
| Tzatziki | Tartex | Chocolate spreads | Mixed Meat salad |
| Veggie spreads | Honey | | Peanut butter |
| Pulses spreads | Vegemite | | |
| Fruit jams, no sugar | Molasses | | |
| | Fruit spreads w sugar | | |
| Good Foods | Basic Foods | Occasional Foods | Luxury Foods |
| --- | --- | --- | --- |
| Veggies marinated no oil | Veggies in oil | Cabbage salad | |
| Pickles no oil | Antipasto (vegetarian) | Tzatziki | |
| Salads no oil | Vine Leafs / Dolmatis | | |
| Hommus | Tarama | | |
| Good Foods | Basic Foods | Occasional Foods | Luxury Foods |
| --- | --- | --- | --- |
| Tomato sauce, no sugar | All other sauces | Sauces with Cream | Sauces with Cheese |
| Sauces with grains | Chilli sauce | Curry sauce | Sauce Béarnaise |
| Chutneys | Pasta sauce | Yoghurt dressings | Béchamel |
| | Asian sauces | Mint Jelly | Pesto |
| | Barbecue sauce | | Hollandaise |
| | Taco sauce | | French dressing |
| | Salsa sauce | | Cocktail sauce |
| | Gravy | | Caesar dressing |
| | Buttermilk dressing | | |
| | Cranberry Sauce | | |
| | Satay Sauce | | |
| | Apple Sauce | | |
| | Plum Sauce | | |