Herbal Fibreblend dietary supplement
G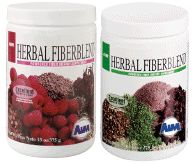 reat for cleansing or constipation while travelling.
Fiber is very important as we know and here are some of the best herbal fiber products on the market which are great for cleansing or to keep you regular while travelling.
Our top of the line product that we use regular is AIM Herbal Fiberblend. It helps maintain a healthy digestive function by cleansing the body of waste and parasites. It is a mixture of fibre and herbs specifically formulated for its contribution to daily diet. Powder available either unflavoured or raspberry flavoured.
Benefits AIM Herbal Fiberblend
* Cleansing effect on the bowel
* Aids in the prevention of constipation
* Promotes elimination and rids the body of waste
AIM Herbal Fibreblend® is a unique fibre product that combines the benefits of psyllium, a soluble fibre, with those of selected cleansing herbs. This combination results in a product that provides you with important fibre and special cleansing properties.
How to take AIM Herbal Fiberblend
Fibreblend is best taken for 3 month to give you a good slow but steady cleanse. It is a great product when you are travelling and I know many people who won't go to India without it.
Two tablespoons of AIM Herbal Fibreblend® contain 12 to 13 grams of fibre, and most nutritionists recommend consuming 25 to 40 grams of fibre per day. The bulking power of this fiber contributes to reduced transit time for digested foods through the intestinal tract, a more thorough evacuation of waste, and greater regularity of bowel movements.
You will find that using AIM Herbal Fibreblend® brings you good cleansing benefits if you are looking for a slow and steady approach.

The active ingredients in AIM Herbal Fibreblend® work to help your body help itself:

Psyllium Husk Powder
Helps form bulky stools and softens stools; is a natural source of fibre; removes excess cholesterol
Juglans nigra (Black Walnut) seed husk
Reduces intestinal parasites and improves bowel movement
Hibiscus sabdariffa (Hibiscus) flower
Lubricates the intestinal tract
Equisetum arvense (Horsetail) herb
Acts as mild diuretic, is toning and astringent
Liquorice powder
Acts as an antiinflammatory and antispasmodic
Cascara sagrada – Rhamnus purshiana
Acts as a laxative, stimulating evacuation from the bowels; promotes peristaltic action (muscular contractions in the digestive system)
Rosa canina (Rosehips) fruit flesh
Has a calming effect to reduce stress; helps fight infection
Avena sativa (Oat) stem
Soothes stomach cramps
Cucurbita maxima (Pumpkin) seed
Expels parasites
Chondrus crispus (Irish Moss) whole plant
Helps form bulky stools
Passiflora incarnata (Passionflower) leaf
Calms the nervous system and soothes an irritable bowel
Yucca baccata (Yucca) root
Acts as a laxative, stimulating evacuation from the bowels
Althaea officinalis (Marshmallow) root
Acts as a mucilage, a sticky substance with adhesive qualities
Viola odorata (Violet) leaf
Cleanses and expels parasites
Hamamelis virginiana (Witch Hazel) leaf
Acts as a mucilage,a sticky substance with adhesive qualities
Slippery Elm Bark powder
Acts as a mucilage, a sticky substance with adhesive qualities
Verbascum thapsus (Mullein) leaf
Soothes stomach cramps
Capsicum powder
Promotes cleansing of the circulatory and digestive systems; regulates blood pressure
Questions about AIM Herbal Fiberblend
1)How do I take AIM Herbal Fibreblend®?
Since most people consume less fibre per day than is recommended, you should start out with 2.5g (1 level 5ml spoonful) twice a day. Increase gradually over two weeks according to daily usage recommended below:
Up to 68kg - 3 x 5ml spoonfuls
68 to 90 kg - 5 x 5ml spoonfuls
90kg and over - 6 x 5ml spoonfuls
Not recommended for children under 12 years.
Mix AIM Herbal Fibreblend® in 180-240 ml of water or your favourite juice. Drink immediately. For best results drink 20 minutes before a meal; or 1 hour before or 30 minutes after taking AIM BarleyLife™, AIM Just Carrots™ or AIM RediBeets®.
Drink 8 glasses of water each day as part of the fibre intake program. Regulate daily use according to your metabolism. If you have more than three eliminations per day, reduce your serving size.
How does AIM Herbal Fibreblend® help whole body health?
AIM Herbal Fibreblend® provides you with fibre. This helps you maintain bowel regularity, excrete toxins and scour the intestinal walls. A regular, clean body is a key step to maintaining overall health.
How much fibre is in AIM Herbal Fibreblend®?
A 1-tablespoon (7 to 8 g) serving contains 4 to 5 grams of fibre. The recommended daily allowance is 25 to 40 grams of fibre.
What can I expect when I take AIM Herbal Fibreblend®?
You may notice more regular bowel movements and more complete evacuation of waste. As the fibre 'cleans' your system, you may notice common detoxification symptoms, such as rashes or feeling tired.
Will the fibre in AIM Herbal Fibreblend® result in mineral deficiencies or remove "good bacteria?
Although research continues on this question, studies indicate that psyllium fiber will not result in mineral loss, and friendly bacteria actually feed on fibre.
Can AIM Herbal Fibreblend® be habit-forming?
No. None of the constituents of AIM Herbal Fibreblend® is habit-forming. However, when you stop taking it, you will need to replace the fibre by eating more natural fibre in your diet, because your body will have grown accustomed to the amount of bulking fibre in AIM Herbal Fiberblend®. If you do not replace this, you may experience some constipation or irregularity as your body adjusts.
Health message
Drink plenty of water. Increase fibre in diet. If digestive symptoms persist seek medical advice. Prolonged use of laxatives is undesirable and may cause serious bowel problems. Do not use when abdominal pain, nausea or vomiting are present. Pregnant and nursing women should seek medical advice before taking this product. If fluid retention or digestive symptoms persist seek medical advice. Not suitable for children under 12.