Parasites, a nucance to humans and pets.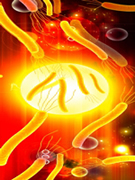 More Parasite information including recipes can now be found at our site: parasiteinfo.com Including Hulda Clark's Parasite cleanse, a herbal worming remedie with parasite herbs for human, instestinal, feline, canine.
PARASITE: A living organism, which receives nourishment and shelter from another organism where it thrives.
HOST: An organism which harbours the parasite = US!
and parasites are definitely one type of visitor that's not welcomed to the body.
The term parasite relates to 'any living thing that lives on or in another living organism'. Many parasites interfere with bodily functions, cause irritation; some destroy the host's tissues and release toxins into the bloodstream.
There are 2 types of parasites. There are large ones referred to as worms and small ones that require a microscope to see.
Worms - round and flat worms.
The large worms while in an immature form can travel through your blood stream and infect any organ, gland or part of the body. Depending on the type of worm, they can grow anywhere from several inches up to many feet in length. They can lay thousand up to millions of eggs each day. The eggs stick to the walls of our intestines and can be microscopic in size. These large worms are called HEMINTHINS or INTESTINAL NEMATODES. The fish tape worm is the largest of the human tapeworms and can reach up to 33 feet in length or more! Beef and pork also have tapeworms.
Protozoa - various amoebic infections (single celled, microscopic protozoa)
The small ones travel through your blood stream like bacteria or virus. They reproduce by dividing themselves much like bacteria do.
They to can invade any cell in the body. These small ones are called PROTOZOA.
There are also various classes of parasites depending on whether they live outside on the surface of the body or live inside the body of the host; either in the body's tissues, body's cavities, digestive tract or other organs, Worms of various kinds can enter the body through several avenues and if conditions are favourable for their development they may multiply. If this colony is not kept in check by the body's own defences, the infestation soon becomes a burden on the body and health is downgraded.
Intestinal parasites are most often due to insufficient or negligent hygiene, poorly washed foods or polluted water. All of these undesirable invaders take nutrients from the body and excrete hazardous wastes, which are destructive to the body, irritating and injuring. For example, allergies, arthritis, asthma or even nerve disorders can often be directly linked to parasite infections. Mild parasite infections can be completely asymptomatic, which does not make them less hazardous. It could be that a mild vague feeling (not feeling 100%), digestive Problems, colic, irritable, fatigue, off colour and generalised or localised pruritus (itchiness) are experienced. Heavy infestations can cause Symptoms of abdominal pain and diarrhoea. Very heavy infestations can cause blood loss, anaemia, weight loss, appendicitis and even death! Some therapists speculate that the moon lays an intricate part in the nematode (worm) cycle. If a person is very nervous at the full moon, they may have worms and or parasites, because worms get rampant during a full moon!
The aim is to avoid becoming infected and strengthening the body to resist infestation. Worms l-o-v-e sugar, acid conditions and constipation. So therefore, a diet high in fibre and alkalising food is the best prevention and cure for infestations.
How many parasites can be in the human body?
Helminths (worms) species reported from human hosts by Taxonomic Group:
Acanthocephala 7 species
Nematoda 138 species
Nematomorpha 24 species
Platyhelminthes 173 species
Digenea 113 species
Eucestoda 57 species
Turbellaria 3 species
TOTAL 342 species
Source: Journal of Parasitology 85:379-403 Dr. D.W.T. Crompton (Crompton, D.W.T. [1999] How much human helminthiasis is there in the world?)
The word parasite comes from Greek meaning "one who eats off the table of another." Parasites eat and live off the food we consume, even our health supplements. They leave us the scraps. They often make us feel that we are not getting the nutrition from our food or that SOMETHING IS MISSING.
INABILITY TO GAIN OR LOSE WEIGHT
CHRONIC CANDIDA
YEAST INFECTIONS
CHRONIC SINUS OR EAR INFECTIONS
URINARY TRACT INFECTIONS
ITCHY EARS OR NOSE
ANAL ITCHING, ESPECIALLY AT NIGHT
DIGESTIVE PROBLEMS
GAS AND BLOATING
DIARRHEA
MUCUSY STOOLS
HEMORRHOIDS
CONSTIPATION
IRRITABLE BOWEL SYNDROME
GRINDING TEETH WHILE SLEEPING
HEART PAIN
NUMB HANDS
PAIN IN THE NAVEL
PAIN IN THE BACK,THIGHS OR SHOULDERS
ARTHRITIC PAINS
BURNING IN THE STOMACH
BED WETTING
DROOLING WHILE SLEEPING
ANY MENSTRUAL COMPLAINT
CYSTS AND FIBROIDS
EATING MORE AND STILL BEING HUNGRY
ALL SKIN PROBLEMS
FORGETFULNESS
DEPRESSION
CHRONIC FATIGUE
CHRONIC VIRAL SYNDROMES
PROSTATE PROBLEMS AND SEXUAL DYSFUNCTION IN MEN
WATER RETENTION (mostly from tapeworms)
CRAWLING FEELING UNDER THE SKIN
FLOATERS
LIVER/GALLBLADDER TROUBLE
And the list goes on and on. We must now be realistic. If 85% to 95% of the population, healthy or sick, has parasites, any illness can be suspected as having as its cause, parasites! It is now being considered that perhaps 50% of all cancer, diabetes, asthma, arthritis and heart disease comes from parasites!
What do Parasites do to us?
Parasites eat and eliminate wastes every day. They not only eat our food, BUT MANY OF THEM EAT HUMAN TISSUES. They also can eat the protein coating on your nerves. Endo limax nana is a parasite that has been found to eat the calcium off our bones causing forms of arthritis. Entamoeba Histolytica can get into the liver, the lungs and the brain. Immature forms of a worm called ROUND WORM, ALSO KNOWN AS ASCARIS, CAN GET INTO OUR LUNGS AND MAY CAUSE ASTHMA. Many cases of chronic anemia can be from a parasite called HOOKWORM, also known as NECATOR AMERICANUS meaning AMERICAN MURDER. This parasite attaches itself to the lining of or intestines and bites into our blood vessels. It is capable of drinking an enormous amount of blood everyday. Hemoglobin levels as low as 15% of normal have been found in people with chronic hookworm disease. Experts now feel that even seizures may be caused by parasites or even worms that can get into our brains!
Recently in her book, THE CURE FOR ALL DISEASES, Dr. Hulga Clark speculates that Diabetes can be caused by a worm called a FLUKE which can get into the pancreas and cause it to malfunction. Many researchers, including myself, have seen this to be true! The TV show "60 Minutes" highlighted a story of many children who had bloated bellies and had died of unknown causes. It was found upon autopsy that these children had died of DOG HEART TAPE WORMS. Tape worms that these children had picked up from dogs and had infected their bodies. It is now being considered that heart disease and heart attacks may be higher in dog owners as these owners have had their hearts infected by these worms. This condition has been confirmed by autopsy.
Another type of roundworm is called whip worms. They inject a digestive fluid into our colon which turns the tissue of our colons into a liquid which the worm then sucks up. Pinworms have recently been found in the uterus, vulva and the fallopian tubes of some of my female patients. This is because when the worm travels to lay its eggs, it can get lost on its way back to the colon. In other words, it travels out of the colon, out of the anus into the vaginal area and gets lost on its way back. It's no wonder women can get rid of their vaginal infects. Worms can be crawling out of the anus carrying bacteria and candida right into the reproductive areas. And to make matters worse they do this at night while your asleep. Sound unbelievable? Do you get rectal itching that is worse at night or that ever wakes you up at night? Well guess who's coming to dinner!
Parasites release toxic wastes. These wastes are actually their feces and urine. Parasite urine is practically pure ammonia. Parasite wastes stress the kidneys, liver and immune system.
It has been determined that the average hospital or lab is only able to catch 20% of the actual cases. Over 1000 species of parasites can live in your body and there are tests available only for 40 to 50 types. This means that your doctor, should he decide to test you, can only hope to find 5% of the parasites that can be tested for at a accuracy rate of 20% We are automatically missing 80% and have only a 20% chance of finding the remaining 5% that we can test for.
This ends up being a 1% accuracy. This is why we can have such an epidemic and it is going unnoticed.
The primary way is from our food and water. Over 50% of our food and water is infected. And organic food because it is grown with animal manure may be worse than commercial food.
In her book, THE CURE FOR HIV AND AIDS, Dr. Hulda Clark points out that much of the food we eat, the personal care items we use like shampoo, hand lotions and commercial cleaning solutions are high in solvents. The two most common solvents are BENZENE and PROPYL ALCOHOL. These solvents cause the microscopic eggs from parasites to hatch quickly in our bodies. Many years ago, before we were exposed to these chemicals, the parasite eggs would pass through our bodies leaving us safe. The eggs of parasites are microscopic and are the real danger. They can be passed sexually, through shaking hands, walking barefoot, eating or drinking from someone else's glass, bottle, can, fork etc., swimming in polluted lakes, rivers or streams, even by going to the beach.
Recent surveys have found that livestock inspectors might be missing as many as 1/2 of the parasite infected animals that go to slaughter.
Dr. Brooks claims that "eggs are readily transported through the air and it is not uncommon to find them in every room in the house.....complications are much common in women then men."
We get parasites from our pets. Anyone who is sick or has a health problem should try to remember when it started and when they got their pet. You may find it was around the same time.
Every time that your pet licks their anus they are putting thousands of parasite eggs are their tongues. When they go and lick you those eggs are going right onto YOU! The link between a sick child and a new puppy is seldom realized.