Irritable Bowel Syndrome, IBS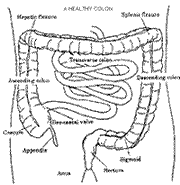 Irritable bowel syndrome* (IBS) is a "syndrome," meaning a group of symptoms. The most common symptoms of IBS are abdominal pain or discomfort often reported as cramping, bloating, gas, diarrhea, and/or constipation. IBS affects the colon, or large bowel, which is the part of the digestive tract that stores stool.
IBS is not a disease. It's a functional disorder, meaning that the bowel doesn't work, or function, correctly. Irritable bowel syndrome (IBS, or spastic colon) is a diagnosis of exclusion. It is a functional bowel disorder characterized by chronic abdominal pain, discomfort, bloating, and alteration of bowel habits in the absence of any detectable organic cause. In some cases, the symptoms are relieved by bowel movements. Diarrhea or constipation may predominate, or they may alternate (classified as IBS-D, IBS-C or IBS-A, respectively). IBS may begin after an infection (post-infectious, IBS-PI), a stressful life event, or onset of maturity without any other medical indicators.
IBS is not the same as inflammatory bowel disease (IBD), which includes Crohn's disease and ulcerative colitis. In IBS, the structure of the bowel is not abnormal.
Irritable bowel syndrome (IBS) is one of the most common ailments of the bowel (intestines) and affects an estimated 15% of people in the US. The term, irritable bowel, is not a particularly accurate one since it implies that the bowel is responding irritably to normal stimuli, and this may or may not be the case. The several terms used for IBS, including spastic colon, spastic colitis, and mucous colitis, attest to the difficulty of getting a descriptive handle on the ailment. Moreover, each of the other names is itself as problematic as the term IBS.
everal conditions may present as IBS including coeliac disease, fructose malabsorption, mild infections, parasitic infections like giardiasis, several inflammatory bowel diseases, bile acid malabsorption, functional chronic constipation, and chronic functional abdominal pain. In IBS, routine clinical tests yield no abnormalities, although the bowels may be more sensitive to certain stimuli, such as balloon insufflation testing. The exact cause of IBS is unknown. The most common theory is that IBS is a disorder of the interaction between the brain and the gastrointestinal tract, although there may also be abnormalities in the gut flora or the immune system.
It is not clear why patients develop IBS. Sometimes it occurs after an infection of the intestines. This is called postinfectious IBS. There may also be other triggers.
The intestine is connected to the brain. Signals go back and forth between the bowel and brain. These signals affect bowel function and symptoms. The nerves can become more active during stress, causing the intestines to be more sensitive and squeeze (contract) more.
IBS can occur at any age, but it often begins in the teen years or early adulthood. It is twice as common in women as in men.
About 1 in 6 people in the U.S. have symptoms of IBS. It is the most common intestinal problem that causes patients to be referred to a bowel specialist (gastroenterologist).
There is research to support IBS being caused by an as-yet undiscovered active infection. Studies have shown that the nonabsorbed antibiotic Rifaximin can provide sustained relief for some IBS patients. While some researchers see this as evidence that IBS is related to an undiscovered agent, others believe IBS patients suffer from overgrowth of intestinal flora and the antibiotics are effective in reducing the overgrowth (known as small intestinal bacterial overgrowth). Other researchers have focused on an unrecognized protozoal infection as a cause of IBS as certain protozoal infections occur more frequently in IBS patients. Two of the protozoa investigated have a high prevalence in industrialized countries and infect the bowel, but little is known about them as they are recently emerged pathogens.
Blastocystis is a single-cell organism that has been reported to produce symptoms of abdominal pain, constipation and diarrhea in patients though these reports are contested by some physicians. Studies from research hospitals in various countries have identified high Blastocystis infection rates in IBS patients, with 38% being reported from London School of Hygiene & Tropical Medicine, 47% reported from the Department of Gastroenterology at Aga Khan University in Pakistan and 18.1% reported from the Institute of Diseases and Public Health at University of Ancona in Italy. Reports from all three groups indicate a Blastocystis prevalence of approximately 7% in non-IBS patients. Researchers have noted that clinical diagnostics fail to identify infection, and Blastocystis may not respond to treatment with common antiprotozoals.
Dientamoeba fragilis is a single-cell organism that produces abdominal pain and diarrhea. Studies have reported a high incidence of infection in developed countries, and symptoms of patients resolve following antibiotic treatment. One study reported on a large group of patients with IBS-like symptoms who were found to be infected with Dientamoeba fragilis, and experienced resolution of symptoms following treatment. Researchers have noted that methods used clinically may fail to detect some Dientamoeba fragilis infections. It is also found in people without IBS.
IBS can be painful. But it does not damage the colon or other parts of the digestive system. IBS does not lead to other health problems.
The main symptoms of IBS are
abdominal pain or discomfort in the abdomen, often relieved by or associated with a bowel movement
chronic diarrhea, constipation, or a combination of both
Other symptoms are
whitish mucus in the stool
a swollen or bloated abdomen
the feeling that you have not finished a bowel movement
Women with IBS often have more symptoms during their menstrual periods.
Symptoms range from mild to severe. Most people have mild symptoms. Symptoms are different from person to person.
The main symptoms of IBS are abdominal pain, fullness, gas, and bloating that have been present for at least 3 days a month for the last 3 months. The pain and other symptoms will often:
Be reduced or go away after a bowel movement
Occur when there is a change in how often you have bowel movements
People with IBS may switch between constipation and diarrhea, or mostly have one or the other.
People with diarrhea will have frequent, loose, watery stools. They will often have an urgent need to have a bowel movement, which may be hard to control.
Those with constipation will have a hard time passing stool, as well as fewer bowel movements. They will often need to strain and will feel cramps with a bowel movement. Often, they do not release any stool, or only a small amount.
For some people, the symptoms may get worse for a few weeks or a month, and then decrease for a while. For other people, symptoms are present most of the time.
People with IBS may also lose their appetite.Slow transportation of food through the small intestine may be complicated, for example, by bacterial overgrowth. In bacterial overgrowth, gas-producing bacteria that are normally restricted to the colon move up into the small intestine. There, they are exposed to greater amounts of undigested food than in the colon, which they turn into gas. This formation of gas can aggravate bloating and/or abdominal distention and result in increased amounts of flatus (passing gas, or flatulence) and diarrhea.
Most of the time, your doctor can diagnose IBS based on your symptoms, with few or no tests. Eating a lactose-free diet for 2 weeks may help the doctor check for a possible lactase deficiency.
There is no test to diagnose IBS. Tests may be done to rule out other problems:
Blood tests to see if you have celiac disease or a low blood count (anemia)
Stool cultures to check for an infection
Some patients will have colonoscopy. During this test, a flexible tube is inserted through the anus to examine the colon. You may need this test if:
Symptoms began later in life (over age 50)
You have symptoms such as weight loss or bloody stools
You have abnormal blood tests (such as a low blood count)
Other disorders that can cause similar symptoms include:
Celiac disease
Colon cancer (cancer rarely causes typical IBS symptoms, unless symptoms such as weight loss, blood in the stools, or abnormal blood tests are also present)
Crohn's disease or ulcerative colitis
IBS has no cure, but you can do things to relieve symptoms. Treatment may involve
diet changes
medicine
stress relief
You may have to try a few things to see what works best for you. Your doctor can help you find the right treatment plan.
Woman eating.
Diet Changes
Some foods and drinks make IBS worse.
Foods and drinks that may cause or worsen symptoms include
fatty foods, like french fries
milk products, like cheese or ice cream
chocolate
alcohol
caffeinated drinks, like coffee and some sodas
carbonated drinks, like soda
Coffee, french fries, and ice cream sundae.
These foods may make IBS worse.
To find out which foods are a problem, keep a diary that tracks
what you eat during the day
what symptoms you have
when symptoms occur
what foods always make you feel sick
Woman making list.
Take your notes to the doctor to see if certain foods trigger your symptoms or make them worse. If so, you should avoid eating these foods or eat less of them.
Some foods make IBS better.
Fiber may reduce the constipation associated with IBS because it makes stool soft and easier to pass. However, some people with IBS who have more sensitive nerves may feel a bit more abdominal discomfort after adding more fiber to their diet. Fiber is found in foods such as breads, cereals, beans, fruits, and vegetables.
The goal of treatment is to relieve symptoms.
Lifestyle changes can help in some cases of IBS. For example, regular exercise and improved sleep habits may reduce anxiety and help relieve bowel symptoms.
Dietary changes can be helpful. However, no specific diet can be recommended for IBS, because the condition differs from one person to another.
The following changes may help:
Avoid foods and drinks that stimulate the intestines (such as caffeine, tea, or colas)
Avoid large meals
Increase fiber in the diet (this may improve constipation but make bloating worse)